By Arwen McGilvra-
Despite the heat, attitudes were high during the 2012 Day of Service projects by ServeINC (Serve in the name of Christ.) Last year the group painted and landscaped at Sunrise and Lafayette Elementary schools in Albany. Again this year they painted at two Albany area schools, Waverly Elementary and Jefferson Elementary.
Doug Pigman, Albany School District Facilities Supervisor, said that this year was even easier than last year. "Last year was like teething," he said, "Things are smoother this year. We knew what prep work to do ahead of time, and it's just been great."
In addition to the projects at the two schools this year ServeINC sponsored a family fun day and backpack giveaway at the Waverly site. The group gave away over 200 backpacks with school supplies, a Gideon Bible, and a gift certificate to Coldstone Creamery inside.
"Several families had recently moved into the area and still didn't know what they were going to do for school next year." said Rich of Valley Christian Center who worked at the backpack booth all day. He said that about 70% of the families getting backpacks were from the surrounding community.
Volunteers from the House of Prayer and Celebration (HOPC) were on hand to pray a blessing over every family who received a backpack.
One volunteer from HOPC said she was surprised at how responsive so many of the families were, "Nobody said no, a lot of families bowed their heads to pray with me."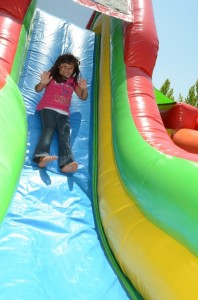 The family fun zone included carnival games, bounce houses, face painting, balloon animals, and services like a clothing giveaway, free bike tune-ups, haircuts and health screenings. Several faith based social service organizations were also on hand to answer questions and let the community know what they have to offer. Among them were Options Pregnancy Center, Albany Helping Hands, Free on the Inside, the Salvation Army, and Mid-Valley Fellowship.
Deb Powell of partner organization Love INC, helped organize the social services at the family fun zone, was excited, "I've talked to everyone here and they are jazzed and ready to do it again next year."
Most of the kids were excited about the bounce houses, and lined up to go again and again. One little boy said his favorite part was the free sucker he got from the Salvation Army booth. Another little girl was excited about her free school supplies. Her mother said it really helped them out to get the free backpacks, and beside "the kids had a lot of fun today."
Sharen from Child Evangelism Fellowship, was encouraged by the turnout for the family fun day and the volunteers. Volunteers who painted about 150 faces, and made over 400 balloon animals for the children.
"The beauty of it is that we use the colors from the wordless book, and can tell the Good News of Jesus through the face painting."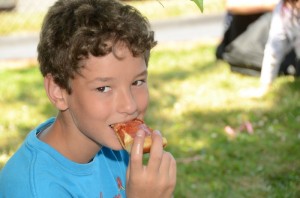 Suzan a volunteer from North Albany Community Church came out to help with the face painting. "I thought it was delightful to get to know the kids. They just liked having someone to talk to. They'd come over again and again."
A free lunch was also served to the volunteers and anyone in the community who showed up. Izzy's pizza provided stacks of pizzas, and there was also hot dogs, chips and soda pop. For many kids the best part was the ice cream which came after.
"It's been wonderful working together. On every front; painting, landscaping, and the family zone. It's just been over the top." said Ed Sweet, pastor at Valley Christian Center.
Deb Powell summed it up well, "A lot of the benefit from today will come later, when these families have needs and reconnect with the services here today."