We want to thank all of our partners within the greater body of Christ, who have come together through this effort we call Serve INC. We are better together!
Serve INC has been bringing the body of Christ together since 2010 and we have completed over 18 community projects providing hundreds of thousands of dollars worth of service and labor to schools, community organizations and churches. Working side by side to paint a wall, weed a stretch of landscaping, paint faces at the Kidz Zone, or come together for prayer and worship, Serve INC has been helping to connect churches and believers to one another as well building the connection between the community and the church.
As we work together  to promote unity, prayer, service and sharing the good news, we contine to focus our efforts on an annual community service project.  This year we have been invited to paint Calapooia Middle school on July 13th.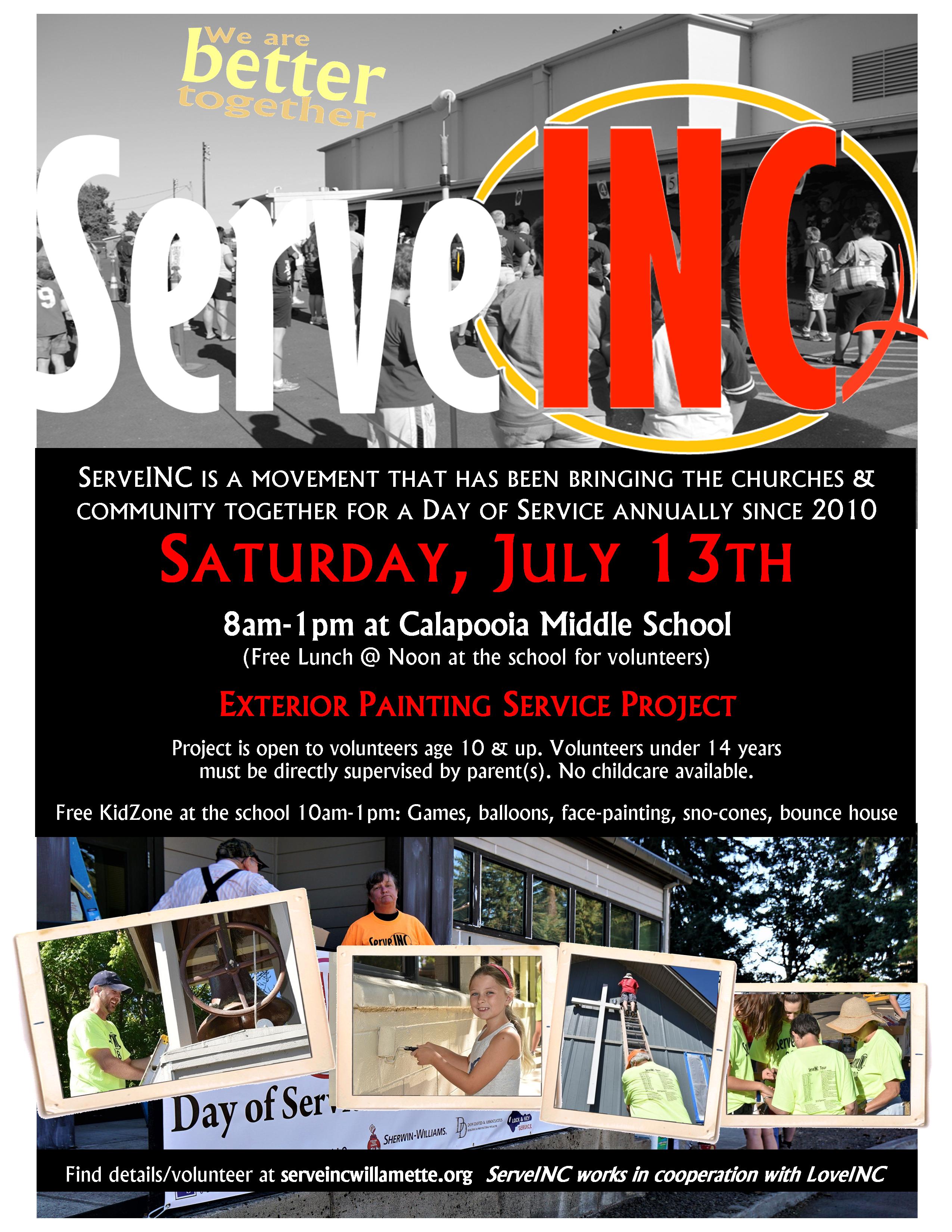 As a Serve INC partner, you can participate in a variety of ways:
Promote the event and encourage volunteers to sign up. We will have promotional materials available.
Identify and provide contact info of potential leaders who can help coordinate a small group of volunteers. We call these people "wall leaders".
Help with the financial costs of the project by making a donation payable to Serve INC.
Oversee a role for the project providing volunteers and leadership to make it happen. Areas include:

Hospitality – oversee distribution of coffee, donuts and lunch. Serve INC funds these items
Parking – oversee the orderly parking and providing direction for volunteers
Advertising – distribute a stack of yard signs promoting the Serve INC project.
Partners are invited to lunch and an informational meeting about the 2019 Serve INC project.  The lunch will be at the Mennonite Home Chapel, on June 7th at 11:30.