By Arwen McGilvra –
Again and again volunteers, pastors and even the principal of Calapooia Middle School said the same thing, the gathering of volunteers and the painting of the school was "amazing."
Nearly 200 volunteers spent the morning of Saturday July 13th spreading 220 gallons of paint to refresh the school on the 10th annual Serve INC Day of Service.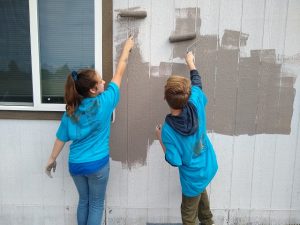 Tristan Heisley, the principal at Calapooia was among the volunteers. He said they were "Super thankful for ServeINC's investment in us. For the students, staff and parents this will be a big deal. It looks like a different school."
Doug Pigman the Facilities director for the Greater Albany Public Schools was pleased with the project. "What you guys do, the churches, coming beside the schools is a lifesaver," he said.
Seventh graders Jake and Renae where there helping to spruce up their school. "I'm trying to help the community make a better school," Jake announced. They both agreed the new color was much better, "the school was ugly," added Renae.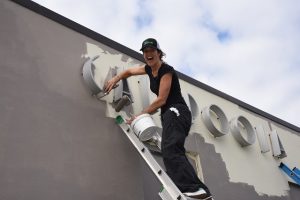 Mother and daughter Lucia and Bella were there painting because Bella, an eight grader at the school, is on the leadership team at the school and wanted to set an example. "We're here to give back to the community."
It was pastor Aaron Sprunger's first year at the event. The pastor from the First Church of God, who had worked as a painter many years ago commented that, "It's great to see a group like this working and getting something done. Like they say many hands."
Other ministers celebrated 10 years with ServeINC. Brett Huff from Hope Church reminisced about being involved since Willamette Celebration. "For me personally, it's important." he said. "I love working together with other churches, and churches should be involved in their communities."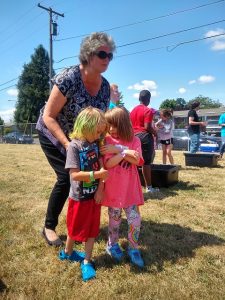 Along side the Day of Service, Serve INC offered families the opportunity to bring their children to a KidZone filled with fun and games, bounce houses and even snow cones.
Volunteer Sharen R. with Child Evangelism Fellowship called the event a great opportunity. "The reason we come here is the opportunity to share the gospel. We love kids. They have fun, we have fun and the kids get to hear the truth."
Pastor Nicole Cade from Valley Christian Center said the best part was getting to know the kids. "I love just sitting down with the kids and hearing them share with us. They want to be known. When they feel known they feel loved."
That could be said about schools too. In our communities schools are struggling. Serve INC does more than just paint a school or two during the summer they have gotten to know the schools in the Albany and Jefferson area. Through knowing the schools they have shown their love for them and for the community.
The service doesn't stop after a Saturday in July. Some churches have adopted a school and have done additional landscaping work. Our partner Love INC helps churches connect to the community in a variety of ways; from school supplies and backpacks, to providing valentine cards to schools so that every kid can participate. Learn how your church can be involved.
"It's amazing that this many people get to together to do something like this to show Christ's love. Amazing that so many do selfless tasks to get the job done. Amazing that so many are willing to sponsor." Rob Nelke Board President for Serve INC summed it up so well.