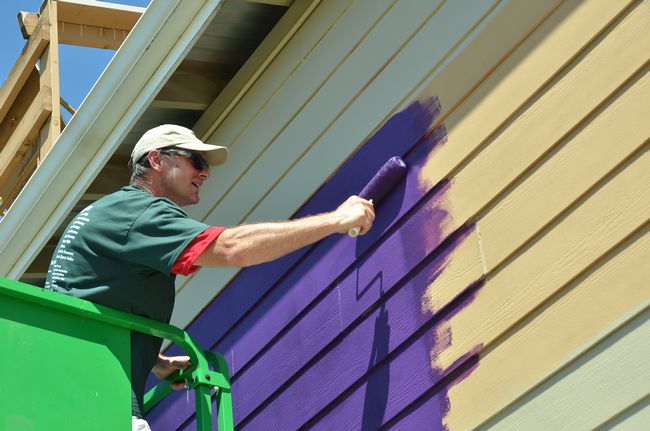 By Arwen McGilvra –
It started with Willamette Celebration in 2010 and now five summers later the churches of Albany and Jefferson are still working together to serve the community.
The 2014 Day of Service was July 12th. Members of 22 churches from Albany and Jefferson participated in projects at two locations. In Albany volunteers painted and landscaped the exterior of Periwinkle Elementary and held a Kid Zone and backpack giveaway for neighborhood children. In Jefferson volunteers painted the grand stands at the Jefferson High School Sports Pavilion and did several small project around the Middle and High School.
Doug Pigman the Facilities Director of the Albany Public school said that this year was "seemless." He was very happy with the way the project turned out.
Amber Reeder was at Periwinkle with her son Christian because it gave him a chance to give back to his school. "I think its amazing that my son could serve today and give his school a face lift. It looks beautiful!"
Around 300 people turned out to volunteer at Periwinkle. Glenn Owens from the Shift didn't expect to be running the bobcat for the landscape crew, but when asked he stepped up to the job. "It's awesome to see the teamwork here today," he said. "It makes it especially worth the time."
In Jefferson over 100 people were volunteering to paint the Sports Pavilion and spruce up the schools. Jeannie Libby from Jefferson Baptist Church and her husband Doug have been involved every year. "We do this to help the community. It's how we give back," she stated.
Joy Luttrell who was working on painting doors at Jefferson Middle School said she was there because she was trying to get her family more involved in the church.
Over and over again if talking to volunteers said how awesome the project was and how glad they are to do something for the community.
Scott Miller the lead pastor at Willamette Community church commented that people are quick to sign-up for the project
because, "It gives us a picture of what the Kingdom of God is like. It's bigger than just one church." He went on to explain that it's "in light of what we've been given through Christ. We have been blessed to be a blessing."
That's really what Serve INC (in the name of Christ) is about. Taking the blessings the church has been given and extending them to the community.